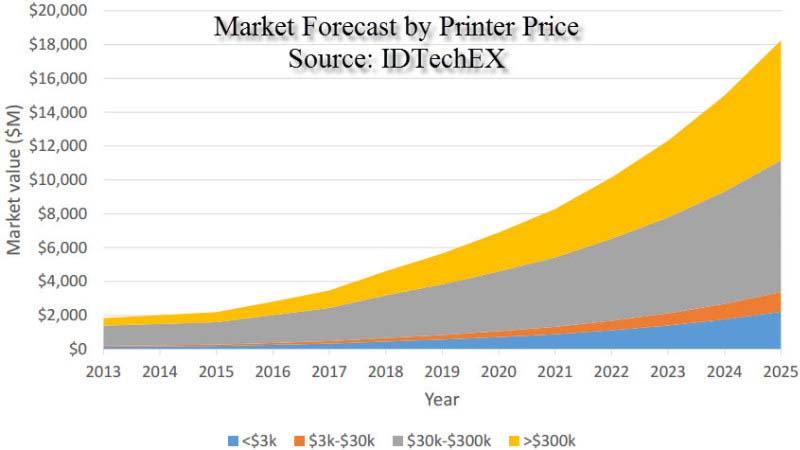 According to a IDTechEx market research reports, "Today, printers in the range $30k to $300k account for 64% of all 3D printing revenues. Over the next 10 years this will fall to 43% as the lowend prosumer and high-end metal 3D printing markets grow."
3D printing is moving from rapid prototyping to functional testing of prototypes under working conditions, and further, the manufacture of final products.
With 3D printing designs are not constrained by manufacturing limitations and design complexity no longer adds cost. This opens up design avenues and enables the economic production of lighter components, critical to the aerospace and automotive industries.
Applications are also emerging in the medical and dental fields, where the opportunity afforded by cheap mass customisation is allowing surgeons to replicate a patient's body based on MRI and CT scans in order to practice difficult invasive procedures, and medical and dental implants which are fully customised to a particular individual can be generated.
The report discusses all of the commercially-significant existing technologies and promising emerging technologies in depth, and analyses both the current and future markets for 3D printing. The market structure is also detailed, with profiles of the major players together and insights gained from in-depth interviews with a range of companies involved in 3D printing.
http://www.idtechex.com/research/reports/3d-printing-2017-2027-technologies-markets-players-000501.asp